The School Breakfast Program provides millions of children a nutritious morning meal each school day. School breakfast is a critical support for struggling families trying to stretch limited resources and provides children a significant portion of the nutrition they need to learn and be healthy.
Find the latest news and resources on Child Nutrition Reauthorization in FRAC's Legislative Action Center.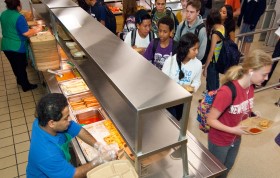 New Report Highlights the Need for a National Approach to End School Meals Debt
Unpaid School Meal Fees: A Review of 50 Districts' Policies highlights the varying practices included in districts' unpaid meals policies, and provides a roadmap for Congress to develop a national policy.
Watch the October 10 Breakfast Matters Webinar: Reducing Barriers to School Meals Consumption
School meals are a critical part of the school day, supporting children's academic achievement and health. Yet, barriers such as not enough time to eat, repetitive menus that do not reflect student preferences, or limited access to breakfast before the start of the school day, can limit school meal consumption. Watch this webinar to hear school districts highlight their best practices for reducing barriers that allow their students to consume a balanced school meal.
More Low-Income Children Start Their Day With a Healthy School Breakfast
FRAC's recent school breakfast reports look at participation in the School Breakfast Program among low-income children for the 2017–2018 school year. On an average school day during the 2017–2018 school year, nearly 12.5 million low-income students participated in the national School Breakfast Program, an increase of 1.2 percent over the prior school year.
Breakfast After the Bell Helps Expand School Breakfast Participation in New York
According to FRAC's latest School Breakfast Scorecard, New York saw the largest increase in the number of low-income students participating in school breakfast in school year 2017–2018, with over 56,000 more students participating in school breakfast than the prior school year. This increase is due in large part to the New York City Department of Education's rollout of a districtwide breakfast after the bell program in its elementary schools, combined with the implementation of community eligibility districtwide in the 2017–2018 school year.
Any public school, nonprofit private school, or residential child care institution can participate in the School Breakfast Program and receive federal funds for each breakfast served. The program is administered at the federal level by the U.S. Department of Agriculture (USDA), and in each state typically through the department of education or agriculture.
To find out the agency that administers the program in your state, check USDA's list of state administering agencies.
Follow this link to USDA guidance on the School Breakfast Program.
Tools You Can Use
The Connections Between Food Insecurity, the Federal Nutrition Programs, and Student Behavior

Find out more

More Low-Income Students Receive Free School Meals in the 2018–2019 School Year Through Community Eligibility

Read the report
#DYK that 12.5 million low-income children accessed #schoolbreakfast on an average school day during the 2017–2018 SY? Learn how many children get the nutrition they need from school breakfast in your state with @fractweets new school breakfast report: bit.ly/2Bj2uTE