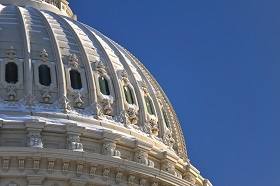 Protect and Strengthen SNAP
Efforts by anti-hunger advocates and others proved critical to ensuring the House rejected its farm bill (H.R. 2) on May 18, but the bill was passed on June 21.  On June 13, the Senate Agriculture Committee approved its farm bill, S. 3042. Advocates should urge Congress to make sure the Farm Bill does not increase hunger. Find out more…
FRAC's Review of President's Proposed FY 2019 Budget
On Monday, February 12, President Trump released his FY 2019 budget proposal. One key component: devastating proposed cuts to the Supplemental Nutrition Assistance Program (SNAP) that reflect a total disregard of the critical role SNAP plays as a first line of defense against hunger and poverty for tens of millions of Americans. Check out a statement from FRAC President Jim Weill. For a summary of proposed reductions to SNAP and an overview of how other critical nutrition and social safety net programs fare in the president's budget, check out FRAC's newly released analysis (pdf).
ON THE HILL
2018 Farm Bill letter to House and Senate Budget and Appropriations Committees

FRAC is proud to have played a leadership role in developing and garnering support for

this letter

(pdf) urging the House and Senate Budget and Appropriations Committees not to "hinder development and passage of the 2018 Farm Bill with further cuts."

SNAP Support Letters
Take Action
FRAC Response to Dangerous House FY2018 Budget Resolution - Advocates Urged to Take Immediate Action

Find out more
If it's not broken, why fix it? The proposed #FarmBill attacks SNAP and millions of struggling families, says @fractweets: http://bit.ly/2qu62fs
FRAC Chat
FRAC's Hunger Doesn't Take a Vacation — Summer Nutrition Report released this week finds that just over 3 million children received a lunch through the Summer Nutrition Programs in July 2017, a small decrease of 14,000 compared to the previous summer.
The Food Research & Action Center (FRAC) hosted its annual dinner on June 6, at The Mayflower Hotel in Washington, D.C. More than 300 guests representing stakeholders from all corners of the anti-hunger world attended, including anti-hunger groups, national organizations, business, labor, and the federal government.

Too many veterans suffer hardship in silence. Just like I did. We are trained not to complain, to be self-sufficient, and to put the needs of others before our own. The proposed House farm bill, the Agriculture & Nutrition Act of 2018 (H.R. 2), will only create more suffering for veterans by weakening the Supplemental Nutrition Assistance Program (SNAP) and forcing veterans and others to make impossible choices between food, health care, and shelter. It is time to speak up and act.