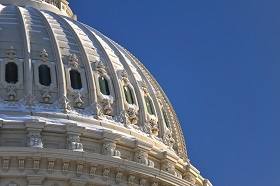 Demonstrate Your Organization's Support to Safeguard the Federal Nutrition Programs – Sign Letter to President Trump and Congress
Ensure a strong and effective national nutrition safety net for vulnerable, low-income individuals and families. See current list of signers (pdf).
ON THE HILL
2018 Farm Bill letter to House and Senate Budget and Appropriations Committees

FRAC is proud to have played a leadership role in developing and garnering support for

this letter

(pdf) urging the House and Senate Budget and Appropriations Committees not to "hinder development and passage of the 2018 Farm Bill with further cuts."

SNAP Support Letters - 115th Congress: An Open Letter to...

Congress and the Administration

State Delegations

The California letter (pdf) details why the federal nutrition programs are so critical and the severe consequences of cutting the funding for these programs.
The Massachusetts letter outlines who benefits from the federal nutrition programs and why protecting and defending the current structure of the programs is so important.
The New York letter addresses how vital access to the federal nutrition programs are and urges the New York delegation to protect the programs from any structural changes.
1,300+ organizations have signed on to this letter to safeguard federal nutrition programs. Has yours? http://bit.ly/2jg3ctc
FRAC Chat
Here are four memorable quotes from inimitable Black civil rights, anti-hunger, and anti-poverty advocates, meant to provide inspiration for taking action to end hunger and poverty in your community.
With just two weeks to go until the 2017 National Anti-Hunger Policy Conference, we hope you're getting ready for your trip to Washington, DC. This year's agenda covers a wide range of topics important to advocates including workshops on how to safeguard and strengthen the federal nutrition programs and engage diverse communities struggling against hunger. Haven't registered yet? Do it today and end hunger now.
With the unveiling of FRAC's exciting new collaboration with the American Academy of Pediatrics (AAP), Kofi Essel, MD, a General Academic Pediatrics Fellow at the Children's National Health System in Washington, DC, weighs in on childhood food insecurity in the U.S. and the launch of the new AAP-FRAC toolkit, Addressing Food Insecurity: A Toolkit for Pediatricians.