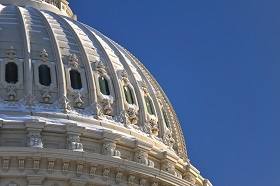 Rep. Alma Adams (D-NC) Introduces Bill to Increase SNAP Benefits
H.R. 1368, which has 106 cosponsors, would increase benefits for all SNAP participants by basing benefits on the Low Cost Meal Plan instead of the Thrifty Food Plan, increase SNAP benefits for families with children with high shelter costs by removing the cap on the SNAP shelter deduction, raise the SNAP monthly minimum benefit to $25, and authorize a SNAP Standard Excess Medical Deduction for persons who are elderly or have disabilities (with a minimum standard of $140).
USDA's Proposed SNAP Rule Will Arbitrarily Limit States' Ability to Provide Benefits, Increasing Hunger and Poverty
The Trump Administration's proposed Supplemental Nutrition Assistance Program (SNAP) rule would diminish food assistance for unemployed and underemployed people in areas with insufficient jobs; undo long-settled regulations; cynically attempt to end run Congress; and increase hunger and nutrition-related diseases.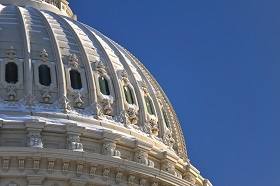 President Signs Farm Bill
President Trump signed the Farm Bill into law on December 20. Read FRAC's analysis. The final Farm Bill conference report was filed the evening of Monday, December 10. On December 11, the Senate passed the conference report, 87-13. The House passed the bill on December 12 by a vote of 369-47. Check out FRAC's statement.
Thank you for taking action to protect immigrant families
The public comment period on the Department of Homeland Security's proposed public charge rule is now closed. Thanks in part to the efforts of anti-hunger and nutrition stakeholders, more than 210,000 comments on the rule were submitted. Stay tuned for updates on the rulemaking process and see FRAC's public charge resource page to learn more about continued action to protect immigrant families.
What Every Policymaker Should Know About Hunger
Even though the 2018 elections are over, FRAC's one-stop-shop for anti-hunger advocates provides the facts and tools needed to ensure every candidate-turned-lawmaker knows about the extent of hunger in America and the solutions that exist to solve it.
ON THE HILL
2018 Farm Bill letter to House and Senate Budget and Appropriations Committees

FRAC is proud to have played a leadership role in developing and garnering support for

this letter

(pdf) urging the House and Senate Budget and Appropriations Committees not to "hinder development and passage of the 2018 Farm Bill with further cuts."

SNAP Support Letters
Take Action
FRAC Response to Dangerous House FY2018 Budget Resolution - Advocates Urged to Take Immediate Action

Find out more
The Trump Administration's proposed SNAP rule would make hunger and poverty in the U.S. far worse by denying vulnerable people food assistance when they most need it. Use @fractweets comment platform to oppose the proposed rule today: bit.ly/2Tr0fVs #HandsOffSNAP
FRAC Chat

Despite extensive evidence suggesting SNAP is critical to the well-being of low-income populations across the country, the Trump Administration has proposed a rule that would tighten restrictions on unemployed and underemployed SNAP recipients who can't document sufficient weekly work hours.
The result? An estimated 755,00 people would lose access to food assistance. Women, alongside other marginalized groups, would be especially impacted.
Sarah Hassmer, Income Security Legal Fellow for the National Women's Law Center (NWLC), further unpacks how the proposed rule would be devastating for women.
School districts, teachers, and students across the country are beginning to prepare for spring break even though snow still blankets the ground in many states. While many students welcome the break from classes, for many others spring break also means a break from the nutritious school meals and afterschool suppers and snacks they rely on to remain engaged, active, and healthy.
Fortunately, the Afterschool Meal Program, which is available through the Child and Adult Care Food Program (CACFP), can provide meals at educational and enrichment programming sites after school and during weekends, school breaks, and holidays throughout the school year.

The 2019 National Anti-Hunger Policy Conference (AHPC) may be over, but the insights shared throughout the conference still feel fresh and resonant, especially as anti-hunger advocates across the nation continue to fight old and new threats to proven nutrition programs that address food insecurity, while looking to grow efforts to reduce hunger. Such insights were offered by the #hungerpc19 plenary speakers: Rep. Lisa Blunt Rochester (D-DE); the Honorable Stephen K. Benjamin; and Diane Whitmore Schanzenbach, Ph.D., Diane Yentel, LaQuita Honeysucker, and Matt Knott.
Weren't able to attend this year's conference and experience the plenary lineup in person? No worries — we have you covered! See below for full-length videos of the 2019 AHPC plenary speakers.