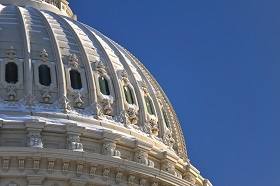 Contact Your Senators and Urge "No" Vote on Senate Tax Bill
The House voted to pass its version of the GOP tax bill, H.R.1 – Tax Cuts and Jobs Act, on Thursday, November 16, 227-205. Check out FRAC's alert on the House tax bill. Meanwhile, the Senate Finance Committee is marking up its version of the tax bill, with a full Senate vote expected after Thanksgiving. Both tax bills overwhelmingly benefit the wealthiest individuals and corporations, and will ultimately be paid for by cuts to critical programs, like SNAP, that serve low- and moderate-income people.
Contact your Senators today and urge a "no" vote on the Tax Cuts and Jobs Act, which will make hunger and poverty far worse in this country and will further deepen income inequality.
ON THE HILL
2018 Farm Bill letter to House and Senate Budget and Appropriations Committees

FRAC is proud to have played a leadership role in developing and garnering support for

this letter

(pdf) urging the House and Senate Budget and Appropriations Committees not to "hinder development and passage of the 2018 Farm Bill with further cuts."

SNAP Support Letters
Take Action
FRAC Response to Dangerous House FY2018 Budget Resolution - Advocates Urged to Take Immediate Action

Find out more
"An all-out assault on struggling families." @fractweets sums up House #GOPBudget → http://bit.ly/2uDZnDs #SNAPMatters
FRAC Chat

Alaska has over 78,000 veterans, giving us the highest percentage of veterans in the nation. We also have many challenges when it comes to food security.
On Saturday, October 14, I joined hundreds of people, including D.C. council members, community members, food justice advocates, and my fellow colleagues at D.C. Hunger Solutions for the Grocery Walk.
This year, Maryland Hunger Solutions, joined other Maryland organizations, such as the Job Opportunities Task Force and Out for Justice, to advocate for the passage of the Maryland Equal Access to Food Act of 2017.