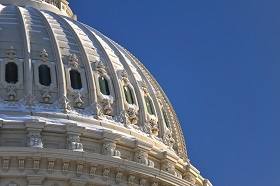 Protect and Strengthen SNAP: Turn Up the Heat During Memorial Day Recess Week
Efforts by anti-hunger advocates and others proved critical to ensuring the House rejected the Farm Bill (H.R. 2) on May 18, but the House likely will schedule a second vote on H.R. 2 on June 22, and the Senate Agriculture Committee is working toward a mark up date. Advocates should weigh in now and during the upcoming recess week to urge Representatives and Senators to make sure the Farm Bill does not increase hunger. Find out more…
FRAC's Review of President's Proposed FY 2019 Budget
On Monday, February 12, President Trump released his FY 2019 budget proposal. One key component: devastating proposed cuts to the Supplemental Nutrition Assistance Program (SNAP) that reflect a total disregard of the critical role SNAP plays as a first line of defense against hunger and poverty for tens of millions of Americans. Check out a statement from FRAC President Jim Weill. For a summary of proposed reductions to SNAP and an overview of how other critical nutrition and social safety net programs fare in the president's budget, check out FRAC's newly released analysis (pdf).
ON THE HILL
2018 Farm Bill letter to House and Senate Budget and Appropriations Committees

FRAC is proud to have played a leadership role in developing and garnering support for

this letter

(pdf) urging the House and Senate Budget and Appropriations Committees not to "hinder development and passage of the 2018 Farm Bill with further cuts."

SNAP Support Letters
Take Action
FRAC Response to Dangerous House FY2018 Budget Resolution - Advocates Urged to Take Immediate Action

Find out more
If it's not broken, why fix it? The proposed #FarmBill attacks SNAP and millions of struggling families, says @fractweets: http://bit.ly/2qu62fs
FRAC Chat
Turn up the heat during Memorial Day recess week (May 26–June 3) by letting your Members of Congress know you stand with groups representing children, women, veterans, seniors, civil rights, people with disabilities, educators, faith-based leaders, and others in wanting Congress to protect and strengthen the Supplemental Nutrition Assistance Program (SNAP).
Participation in community eligibility has grown each year. In the 2016–2017 school year, over 20,000 schools enrolling more than 9.7 million children benefited from community eligibility. Now is the time for school districts to determine whether they can implement or expand community eligibility for the 2018–2019 school year.
Today, FRAC recognizes National Children's Mental Health Awareness Day, a day that brings attention to the importance of mental health in child development. FRAC is highlighting the strong influence food security has on positive mental health outcomes in children and teens.