USDA's Proposed SNAP Rule Will Arbitrarily Limit States' Ability to Provide Benefits, Increasing Hunger and Poverty
The Trump Administration's proposed Supplemental Nutrition Assistance Program (SNAP) rule would diminish food assistance for unemployed and underemployed people in areas with insufficient jobs; undo long-settled regulations; cynically attempt to end run Congress; and increase hunger and nutrition-related diseases.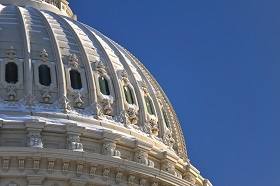 President Signs Farm Bill
President Trump signed the Farm Bill into law on December 20. Read FRAC's analysis. The final Farm Bill conference report was filed the evening of Monday, December 10. On December 11, the Senate passed the conference report, 87-13. The House passed the bill on December 12 by a vote of 369-47. Check out FRAC's statement.
Thank you for taking action to protect immigrant families
The public comment period on the Department of Homeland Security's proposed public charge rule is now closed. Thanks in part to the efforts of anti-hunger and nutrition stakeholders, more than 210,000 comments on the rule were submitted. Stay tuned for updates on the rulemaking process and see FRAC's public charge resource page to learn more about continued action to protect immigrant families.
What Every Policymaker Should Know About Hunger
Even though the 2018 elections are over, FRAC's one-stop-shop for anti-hunger advocates provides the facts and tools needed to ensure every candidate-turned-lawmaker knows about the extent of hunger in America and the solutions that exist to solve it.
ON THE HILL
2018 Farm Bill letter to House and Senate Budget and Appropriations Committees

FRAC is proud to have played a leadership role in developing and garnering support for

this letter

(pdf) urging the House and Senate Budget and Appropriations Committees not to "hinder development and passage of the 2018 Farm Bill with further cuts."

SNAP Support Letters
Take Action
FRAC Response to Dangerous House FY2018 Budget Resolution - Advocates Urged to Take Immediate Action

Find out more
As the #GovernmentShutdown continues, the true looming national emergency is the nation failing to meet the needs of millions of low-income Americans who rely on the federal nutrition programs. Read @fractweets full statement: http://bit.ly/2FdA9Rk
FRAC Chat

To celebrate the life and legacy of Dr. King, FRAC staff reflected on why they decided to pursue careers that embody Dr. King's social justice philosophy that includes ending food insecurity and poverty. Below are some of their responses.

We are still celebrating the passage of the Healthy Parks Amendments Act of 2018, which became law in November 2018. The new law requires the D.C. Department of Parks and Recreation (DPR) to offer all youth attending a DPR-sponsored afterschool enrichment program a supper through the Afterschool Nutrition Programs. DPR is one of the largest providers of afterschool programming in the District, and increasing the reach of afterschool meals through DPR will help ensure more low-income children receive a supper once their classes wrap up for the day.
During the holidays and all year long, millions of individuals and families who struggle against hunger are able to access healthy food with support from the federal nutrition programs. To celebrate the nation's nutrition safety net, FRAC is releasing a seven-part "Remember This December" series that will highlight the impact of seven important federal nutrition programs.
This is the seventh installment of the series, which focuses on school lunch. Read the previous installment on school breakfast.