FRAC Response to Dangerous House FY2018 Budget Resolution – Advocates Urged to Take Immediate Action
On July 19, 2017, the House Budget Committee "marked up" its fiscal year (FY) 2018 (10/1/17–9/30/18) Budget Resolution. While this markup is just the first step in the budget process, advocates are urged to immediately and vociferously oppose the extremely dangerous and harmful program cuts and structural changes included in the budget blueprint. A budget resolution that makes trillions of dollars in cuts to programs that support low- and moderate-income families cannot be tolerated.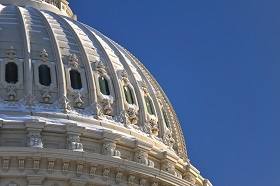 FRAC's Summary of House Agriculture Appropriations – FY 2018
On July 12, 2017, the House Appropriations Committee voted out its Fiscal Year (FY) 2018 Agriculture Appropriations Bill. In addition to setting spending levels on food and nutrition programs, the Committee also weighed in on nutrition standards, lunch shaming, and more.
Budget

FRAC's Review of President's Proposed FY 2018 Budget

On March 16, 2017, the President released his FY2018 "skinny" budget, a blue print for what will be included in the Administration's full budget, which is expected to be released in May. The blueprint calls for deep domestic cuts to non-defense discretionary (NDD) and significant investments in defense spending. Read FRAC's official response to the President's "skinny" budget.

Statement from FRAC: President's FY2018 "Skinny" Budget Attacks Essential Anti-Poverty Programs

Afterschool Meals and the President's Budget (pdf)

Please note that although the President has released its blueprint for FY2018, the final budget for FY2017 has not yet become law. The current Continuing Resolution (CR), as described below, is still in effect until April 28, 2017, at which point we can expect an additional CR (or several) to go into effect until the fiscal year ends on September 30. Or, Congress will pass a final omnibus spending package for the remainder of the fiscal year, prior to the end of this fiscal year.

Agricultural Appropriations

The federal nutrition programs are primarily funded by agriculture appropriations bills. Once the President's budget is released, the House and Senate Budget Committees develop their outline of the full federal budget. From there, it is then up to the Appropriations Committees in both the House and Senate to develop individual appropriations bills for every committee.

Refundable Tax Credits

The Earned Income Tax Credit (EITC) and the Child Tax Credit (CTC) are two of the federal government's more effective methods in which to lift individuals and families out of poverty. Both of these tax credits are refundable, meaning that they can reduce a filer's tax burden to zero and any remaining amount is treated as a direct refund to the filer.

Income thresholds for the EITC are dictated by marital status and number of children. Single childless workers can qualify for the EITC if their income is below $14,900 in the 2015 tax year.

The CTC is worth up to a maximum of $1,000 per child under the age of 17. Unlike the EITC, a family's CTC grows as their income grows.


2016 Omnibus Spending Bill

The Consolidated Appropriations Act of 2016 (Public Law 114-113), also known as the "FY2016 Omnibus Spending Bill," was signed into law on December 18, 2015.

An omnibus spending bill includes several smaller appropriations bills and it is voted on by each chamber of Congress as a complete package, allowing for only one vote in each chamber of Congress, as opposed to voting on each appropriations bill individually. An omnibus bill funds the government for one fiscal year at a time and expires on September 30 of each year. If a spending bill is not passed in time, Congress will move to pass temporary funding bills called Continuing Resolutions (CR).
On the Hill
On March 16th, the Trump Administration released its proposal (pdf) for spending priorities for the remaining six months of FY2017, however, the prevailing sense on Capitol Hill is that negotiations were already well underway for an omnibus spending bill with passage expected soon after Members return to DC after the Easter/Passover recess. In his plan, Trump requested an additional $30 billion in new funding for defense, border security and a wall along the southern border with Mexico. Separately, he recently released a proposal to partially "offset" or pay for the new spending, and cut some $18 billion (pdf) from non-defense discretionary (annually funded) programs. Many of the programs cut in his FY2017 budget proposal were also programs slated for elimination or severely cut in the his FY2018 "Skinny" budget proposal (pdf).
On March 13, five Senators in the Democratic leadership sent a letter (pdf) to Majority Leader McConnell (R-KY) and Appropriations Chairman Cochran (R-MS) outlining opposition to breaking the 2015 Bipartisan Budget Act which "agreed that any extra funding…should be divided equally between defense and non-defense priorities." It appears at this time that the on-going bicameral, bipartisan negotiations for FY2017 will uphold the 2015 budget agreement and will not contain the Administration's proposed cuts and expenditures.
Continuing Resolution/Omnibus: In the 114th Congress, a larger omnibus spending package could not be agreed upon so a Continuing Resolution (CR) was passed on September 28, 2016, and signed into law on September 29, 2016 (Public Law 114-223). That CR funded the government through December 9, 2016.
On December 9, 2016, Congress passed a Continuing Resolution (CR) to fund the government through April 28, 2017. The bill meets the discretionary spending limit for FY2017, spending $3 billion above the limit on non-defense, and $3 billion below the limit on defense spending.
EITC: There are currently two proposals that have been put forward that work to improve upon the existing success of the EITC. One was proposed by Speaker Paul Ryan (R-WI), and the other by Senator Sherrod Brown (D-OH) and Representative Richard Neal (D-MA). Both of these proposals have some core elements that are similar and primarily work to address workers without dependent children.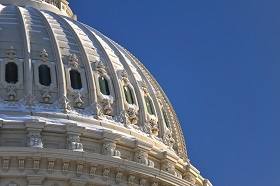 Did You Know?
Every year, Congress is supposed to follow a similar schedule of events throughout the budget and appropriations process. However, in recent years, this process has not always been followed — but the general schedule remains the same.