The federal nutrition programs are dynamic near-term responders in the wake of natural disasters.
Visit FRAC Chat for updates on how federal nutrition programs are responding to meet the needs of those affected by Hurricane Harvey, Hurricane Irma, and the West Coast wildfires. Also see the FRAC Chat blog post, In the Wake of Disaster, USDA Steps Up With Emergency Food Relief, by Brandon Lipps, Administrator, USDA's Food and Nutrition Service.
USDA's National Hunger Hotline can connect callers with emergency food providers in their community. Call 1-866-3-HUNGRY or 1-877-8-HAMBRE (for Spanish) from Monday through Friday (7 a.m. to 10 p.m. ET).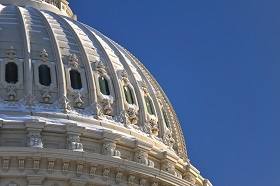 Capitol Hill Responds to Disasters
On October 10, in the wake of recent hurricanes and wildfires, the House approved a $36.5 billion emergency funding package, which includes a D-SNAP provision for Puerto Rico. The Senate reportedly plans to take up the disaster relief bill after it finishes work on the FY 2018 Budget Resolution.
Disaster SNAP  (D-SNAP) Approved for 39 Texas Counties Affected by Recent Storm
USDA may authorize a D-SNAP when the President declares a major disaster with individual assistance under the Stafford Act. States must request approval from USDA's Food and Nutrition Service to issue D-SNAP benefits in areas affected by a disaster.
People who might not ordinarily qualify for the Supplemental Nutrition Assistance Program (SNAP, formerly the Food Stamp Program) may be eligible for D-SNAP if they had disaster related expenses, such as loss of income, damage to property, relocation expenses, and in some cases, loss of food due to power outages. D-SNAP benefits are provided through an electronic benefit transfer card that can be used at authorized food retailers to buy food.
People who are already participating in the regular SNAP may be eligible for additional benefits under the D-SNAP.
Source: USDA
Check out the USDA's state-specific resources for SNAP and Child Nutrition Programs.
California Wildfires

To date, USDA has issued

a number of waivers and flexibilities

mass replacement benefits for CalFresh (SNAP) recipients affected by recent fires.

USDA also announced that SNAP households in specific California zip codes affected by wildfires will receive replacement benefits of 60 percent of the October SNAP benefit.

SNAP households in specific counties affected by the fires can use SNAP to purchase hot foods at SNAP-authorized retailers through November 15.

D-SNAP benefits are available to eligible households affected by the wildfires.

Hurricane Harvey

To date, USDA has issued a number of waivers and flexibilities including:

Made D-SNAP benefits available to people in Texas counties impacted by the storm.
Approved a request by Texas officials to waive Supplemental Nutrition Assistance Program (SNAP) regulations to allow program participants to buy hot foods and hot ready-to-eat foods with their benefits. FNS has notified authorized SNAP retailers in Texas of this waiver, which will be in effect through September 30.
Supported the state in its plans to shift the full SNAP issuance schedule for September to the first of the month so that families have access to their monthly benefits sooner during this time of immediate crisis.
Allowed schools in declared disaster counties, including those using community eligibility, to offer free school breakfast and lunch to all students and to receive the free reimbursement rate for all breakfasts and lunches and allowed waivers for meal patterns and meal service times through September 30.
Allowed area eligibility requirements to be waived for the SFSP, Seamless Summer Option, and the at-risk afterschool meals component of CACFP through September 30, 2017.
Providing the state the flexibility needed to allow seniors who participate in the Commodity Supplemental Food Program in the service areas impacted by the hurricane to receive two food packages in September to make up for the loss of their August food benefit.
Source: USDA

Quick facts:

33 counties under emergency declaration.
Texans recovering from Harvey can now apply for Disaster-SNAP (D-SNAP). Households eligible for D-SNAP will receive two months of benefits equal to the maximum amount normally distributed to SNAP families of equal size. Find the application sites now.

Hurricanes Irma and Maria

To date, USDA has issued a number of waivers and flexibilities including:

Approved D-SNAP benefits for Florida disaster counties.
Allowing schools in Georgia affected by Hurricane Irma to provide students with free meals through the end of September.
Allowing all schools in affected disaster areas in Florida, including schools currently participating in the Community Eligibility Provision, to serve free school meals through the National School Lunch Program through October 20, 2017.
Approved Florida's request to issue automatic, mass replacements of 40% of September 2017 SNAP benefits to SNAP households in certain counties.
Issued Georgia clients' remaining SNAP benefits for September, earlier than previously scheduled.
Approved the U.S. Virgin Island's request to issue automatic mass replacement of 100% of September 2017 benefits for the residents that suffered food losses resulting from the storm.
Allowed SNAP recipients in the U.S. Virgin Islands to buy hot foods with existing SNAP benefits through November 13.
Allowing SNAP participants in Florida to buy hot foods and hot ready-to-eat foods with their benefits through Sept. 30.
Supported Florida's plan to issue all September SNAP benefits on Sept. 7 and Georgia's plan to issue all remaining benefits for September on Sept. 10; both actions ensure families have access to their monthly benefits sooner during this time of immediate crisis.
Supported Puerto Rico's action to issue all September Nutrition Assistance Program benefits on Sept. 5, before the storm.
Announced that individuals receiving benefits under Puerto Rico's Nutrition Assistance Program (NAP), who have been displaced due to the recent hurricanes, can apply for Supplemental Nutrition Assistance Program (SNAP) benefits in the area where they currently reside.

Quick facts:

Irma made landfall in Florida on September 10, 2017.
6 million Floridians have lost power.
Georgia, Alabama, North Carolina and South Carolina have declared states of emergency.
See the Florida Department of Children and Families for further information about disaster assistance centers.
Here are ways advocates can provide food assistance to those in need:
Foster relationships with state and local SNAP agencies.
Urge your state to apply to USDA for D-SNAP as soon as disaster strikes.
Engage media, elected officials, and FEMA in getting out the word about food assistance.
Speak up on behalf of clients who fall through the cracks of disaster relief efforts.
Urge your state child nutrition agency to apply for waivers to ensure access to meals and snacks through the child nutrition programs.
Fact Sheet
Opportunities for Schools to Provide Disaster Relief Through the Child Nutrition Programs
Hurricane Harvey has brought unprecedented flooding and devastation to the Houston area and parts of Louisiana. In the aftermath of Harvey, school districts can provide critical support to students and their families by providing nutritious meals to students through the child nutrition programs.
Disaster Relief
Child Nutrition Programs