Take Action: Trump administration wants to cut the Power of SNAP for Hungry Households
Tell the administration that USDA's proposed rule on SNAP Standardization of State Heating and Cooling Standard Utility Allowances, which would cut program benefits by a total of $4.5 billion over five years, would cause 19 percent of SNAP households to get lower SNAP monthly benefits, and exacerbate the struggles many low-income people have paying for costs of both food and utilities.
Proposed Changes to SNAP Could Leave Nearly 1 Million Children Without Access to Free School Meals
A surprise release of data that the USDA should have disclosed earlier underscores the deep harm of its proposed rule to limit access to the Supplemental Nutrition Assistance Program (SNAP): eliminating food assistance for 3.1 million people and jeopardizing free school meals for nearly 1 million children.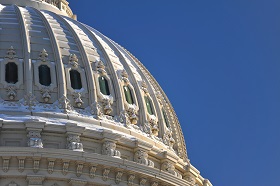 President Signs Farm Bill
President Trump signed the Farm Bill into law on December 20. Read FRAC's analysis. The final Farm Bill conference report was filed the evening of Monday, December 10. On December 11, the Senate passed the conference report, 87-13. The House passed the bill on December 12 by a vote of 369-47. Check out FRAC's statement.
What Every Policymaker Should Know About Hunger
Even though the 2018 elections are over, FRAC's one-stop-shop for anti-hunger advocates provides the facts and tools needed to ensure every candidate-turned-lawmaker knows about the extent of hunger in America and the solutions that exist to solve it.
ON THE HILL
2018 Farm Bill letter to House and Senate Budget and Appropriations Committees

FRAC is proud to have played a leadership role in developing and garnering support for

this letter

(pdf) urging the House and Senate Budget and Appropriations Committees not to "hinder development and passage of the 2018 Farm Bill with further cuts."

SNAP Support Letters
Take Action
FRAC Response to Dangerous House FY2018 Budget Resolution - Advocates Urged to Take Immediate Action

Find out more
The Trump administration's assault on SNAP is heating up with another cold proposed rule that would cut the power of SNAP for millions of hungry households. Join @fractweets and me in submitting a comment to fight back: frac.org/snap-sua-comments #HandsOffSNAP
FRAC Chat
People who receive Social Security Disability Insurance (SSDI) and Supplemental Security Insurance (SSI) benefits could have a harder time maintaining them under a Trump administration proposed rule that is open for public comment through January 31, 2020.
In 2019, the U.S. Department of Agriculture (USDA) proposed three SNAP rules changes that together threaten to take food away from millions of people in need. USDA was required to review and take into consideration public comments submitted prior to moving forward with final rulemaking.
Here is an update on the status of those USDA attempts to sidestep Congress to cut SNAP, and what advocates can do to continue to oppose implementation of those rules changes.
In a Scrooge-like kickoff to the holiday season, the Trump administration finalized the first of three proposals to cut SNAP.The rule would cut nearly 700,000 people off of nutrition assistance. Taken together, the three rules will take food off the tables of an estimated 3.7 million people. On December 19, 2019, Members of Congress, FRAC, and CAP Action gathered outside of the USDA to denounce the Trump administration's cruel cuts to SNAP.