Take Action: Trump administration wants to cut the Power of SNAP for Hungry Households
Tell the administration that USDA's proposed rule on SNAP Standardization of State Heating and Cooling Standard Utility Allowances, which would cut program benefits by a total of $4.5 billion over five years, would cause 19 percent of SNAP households to get lower SNAP monthly benefits, and exacerbate the struggles many low-income people have paying for costs of both food and utilities.
Take Action: Protect Immigrant Families
Increased threats against immigrant families are contributing to a chilling effect on the use of federal nutrition programs and food resources.
Trump Administration's Latest Attack on Struggling Americans Would Spike Hunger for 3 Million People
USDA's proposed rule that would take food assistance away from 3 million people by making them ineligible to participate in the Supplemental Nutrition Assistance Program. The comment period has passed, but you still stay informed on the rule's progress. Find out more on the rule here.
SNAP Time Limit Comments
The public comment period for USDA's proposed SNAP Able-Bodied Adults Without Dependents (ABAWD) rule has ended. Thanks to the efforts of anti-hunger and nutrition stakeholders, more than 100,000 comments on the rule were submitted.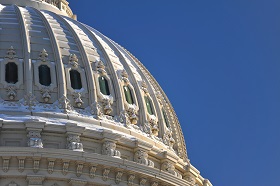 President Signs Farm Bill
President Trump signed the Farm Bill into law on December 20. Read FRAC's analysis. The final Farm Bill conference report was filed the evening of Monday, December 10. On December 11, the Senate passed the conference report, 87-13. The House passed the bill on December 12 by a vote of 369-47. Check out FRAC's statement.
What Every Policymaker Should Know About Hunger
Even though the 2018 elections are over, FRAC's one-stop-shop for anti-hunger advocates provides the facts and tools needed to ensure every candidate-turned-lawmaker knows about the extent of hunger in America and the solutions that exist to solve it.
ON THE HILL
2018 Farm Bill letter to House and Senate Budget and Appropriations Committees

FRAC is proud to have played a leadership role in developing and garnering support for

this letter

(pdf) urging the House and Senate Budget and Appropriations Committees not to "hinder development and passage of the 2018 Farm Bill with further cuts."

SNAP Support Letters
Take Action
FRAC Response to Dangerous House FY2018 Budget Resolution - Advocates Urged to Take Immediate Action

Find out more
SNAP is the nation's first line of defense against hunger, but instead of making it stronger, the Trump admin. wants to eliminate benefits for 3M+ people. @fractweets experts share strategies for further investing in this powerhouse program: bit.ly/2K5iRrR
FRAC Chat
It's National School Lunch Week, and we want to celebrate all the school districts that have adopted community eligibility!
As the number of grandfamilies continues to rise, data on the state of grandfamilies is growing, including alarming data pointing to grandfamilies' vulnerability to poverty and hunger. To elevate the unique challenges grandfamilies face — and to highlight the importance of the federal nutrition programs to addressing those challenges — FRAC, in collaboration with Generations United, collected and shared real-life narratives of grandparents raising grandchildren. Below is a selection of these narratives, first shared during this year's Grandparents Day (September 8).
On July 24, the administration proposed a rule that would take away Supplemental Nutrition Assistance Program (SNAP) benefits from over 3 million people and jeopardize more than 500,000 children's access to free school meals. The move is bad policy, as it threatens to make children hungrier at home and at school, and reduces access to the good nutrition provided by school meals that support child health, learning, and well-being.