Coming October 23: Afterschool Suppers: A Snapshot of Participation, FRAC's latest report on participation data in the Afterschool Nutrition Programs
Register here for the October 23 webinar on the report.
Watch the webinar: Back to School, Back to Afterschool Meals: Getting Started and Maximizing Participation
Children and teens across the country are starting back to school, and the Afterschool Meal Program can help fill the nutrition gap that may exist for millions of low-income children when the school day ends. Learn how to get started and increase participation at existing programs. Use the password: AfterschoolJuly19 to access the recording.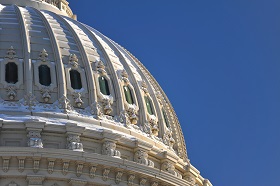 Congress Begins the Child Nutrition Reauthorization Process
Find the latest news and resources on Child Nutrition Reauthorization in FRAC's Legislative Action Center.
The Afterschool Nutrition Programs provide federal funding to serve nutritious meals and snacks to children and teens at schools, community and recreation centers, Boys and Girls Clubs, YMCA's and other sites that offer educational and enrichment activities after school, on weekends, and during school holidays.
Afterschool meals and snacks are available through the Child and Adult Care Food Program and the National School Lunch Program. These programs are administered at the federal level by the U.S. Department of Agriculture (USDA), and in each state typically through the department of education, health, or agriculture. To find out the agency that administers the program in your state, check USDA's list of state administering agencies.
Quick Facts
The Afterschool Supper Program served 1.2 million children on an average weekday in October 2017, an increase of 11.3 percent, or 124,000 children, from October 2016.
Funding for afterschool meals became available nationwide through the Healthy, Hunger Free Kids Act, so there is much work to do to increase the number of children who participate.
School-aged children have higher daily intake of fruits, vegetables, milk, and key nutrients like calcium, vitamin A, and folate on days they eat afterschool meals compared to days they do not.
Offering afterschool meals can help draw children into educational and enrichment activities and programming after school.
Success Story
California District Moves from Snacks to Meals
California's Redlands Unified School District (RUSD) transitioned to suppers by simply adding three components to their existing cold snack service. The district centralized meal preparation to one kitchen and using afterschool program staff, instead of cafeteria staff, to serve meals. RUSD was able to increase the amount of afterschool reimbursement they received by over 250 percent within a year and expand the number of sites from 6 to 22.
Success Story
From Afterschool Suppers: A Snapshot of Participation